Dow University of Health Sciences (DUHS) Admission 2020 – Announced
Dear Students we suggest you that before getting admission in Dow University of Health Sciences (DUHS) Admission 2020 you must know the history. It will prove very helpful for you to take right decision about your career.
Dow University of Health Sciences (DUHS) Admission 2020 has announced. The Dow University of Health Sciences is one of the old government institute in Pakistan. It is situated in karachi, Sindh, Pakistan. The university consists of two research health department: Dow Medical College and Down international Medical College. The University also has a very strong department of Postgraduate studies which control different
medical sciences and clinical sciences programs at Dow University.
It was Established in 1945 as the Dow Medical College, it is famous for its economics biomedical, health, and medical research programs. It is ranked in top medical universities of the world. It is famous for its medical studies. The university called after its founder, Sir Hugh Dow, who establish the base of university in 1945. The university offers undergraduate, post-graduate and doctoral programs in all academic disciplines relating to medical sciences.
Further, if you want to get admission in Agha Khan University in 2020 you may check this link.
How to Apply
Students who are interested to get admission in Dow University of Health Sciences, are informed that they can submit the application form before the last date. Detailed Application Process, Eligibility criteria, Admission Schedule, and Contact details are mention in the University's official advertisement below.
By visiting this website you can easily find your desired courses and can decide that which university is best for you in Pakistan. There is a filter option in which all the universities of Pakistan as well as world wide universities are added in their filter option.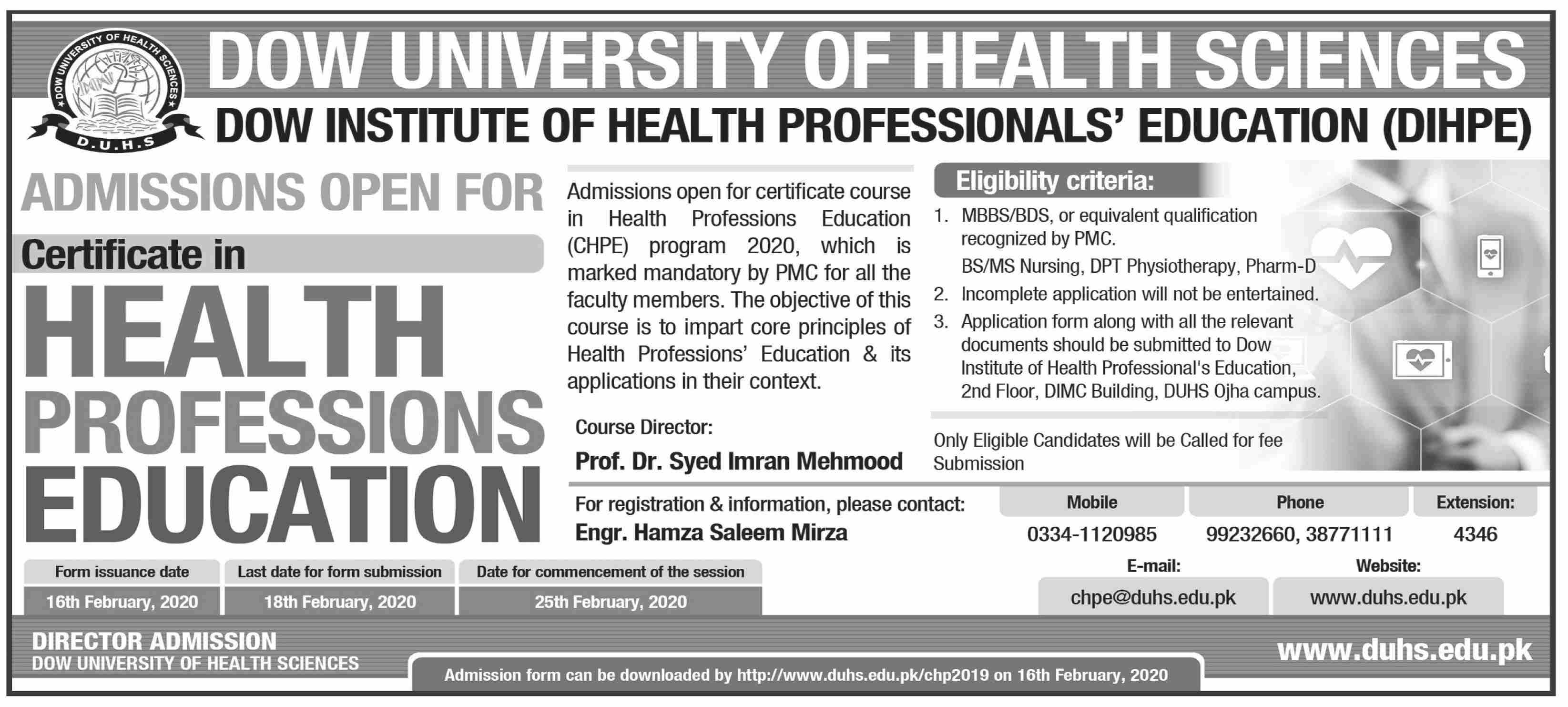 Admission Deadline
Last Date to apply for admission (Online or by Hand) 05 June, 2020